More Metric's for Mastering Your Workers' Compensation Program Focus on Closures
Understanding numbers and trends is fundamental to managing an effective workers' compensation program. Metrics allow you to assess strengths and weaknesses. Last year at this time Athens Administrators sent out a set of metrics and benchmarks that we believe to be incredibly useful for managing a program, (Metrics for Mastering Your Workers' Compensation Program). At times the biggest challenge is locating comparative data to measure your program against. Other times the challenge may just be getting started with benchmarking.
Below you will find information that can help with both comparative industry data and a general starting spot for benchmarking your program.
Claim Closure Benchmark #1
Closures are always a very important metric to stay on top of.
In September of 2010 the WCIRB published a report (https://wcirbonline.org/wcirb/resources/
rate_filings/pdf/2011_01_01_amended_filing_092710.pdf). Within this report the WCIRB provides historical indemnity reporting and closing patterns for Private Insurers within California (see page 50). This report provides a solid benchmark that can be used to gauge the closures for your own program.

Claim Closure Benchmark #2
A simple and solid way to measure the general effectiveness of the closures for a mature and stable workers' compensation program* is to take the average of the most current three year new indemnity claim occurrences and divide that number by the total number of open indemnity claims for your program. As a rule of thumb over the year Athens has categorized the outcome of the calculation
as follows:
Exceptional Closures = a ratio of 2.50 or less
Average Closures = a ratio between 3.0 – 3.25
Questionable Closures = a ratio of 3.25 or greater
Below is a sample of how this calculation works.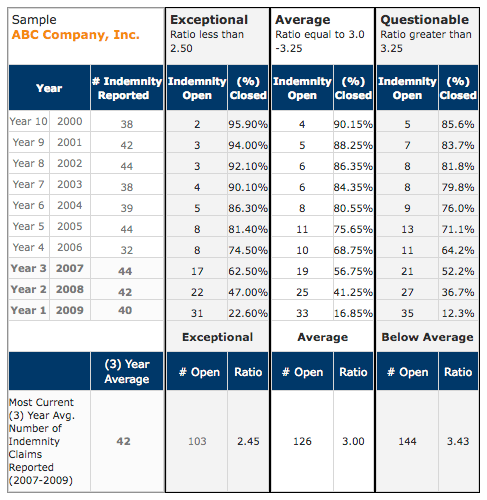 Note: Every program is different and this calculation should only be used as a starting point for the overall analysis
of your program.
*Mature & Stable = Program in place for at least 60-72 months and has annually experienced consistent levels of new claim occurrences
One more thought…
Beyond measuring closures for your program, it is also always a great idea to ask whoever is administering your claims a lot of questions. In general, the more that a risk manager and a claim administrator can dig into a program the better off the program will end up running.
What Athens Administrators Can Do For Your Program
How We Make a Difference
As a claim administrator a major key to success in managing a program is the quality and continuity of the individuals that are responsible for working the claim files on a daily basis. Beyond technical excellence it is also important to provide reasonable caseloads and a high level of supervisory and administrative support for the examiners. We recognize this and are proud of the following
companywide facts:
From 2004 to 2009 Athens Administrators employee retention rate

We attract the best claim staff in the industry and once in place they stay.

Current companywide indemnity caseload per Examiner is 143.
Companywide Athens has two assistants in place for every three examiners.
Supervisors are responsible for overseeing a limited number of individuals. This allows the Supervisors to focus on making sure that best claim handling practices are constantly being delivered within their units.
Related Links
Metrics for Mastering Your Workers' Compensation Program
WCIRB Report (PDF)